Women and girls worldwide, from 15-70 years of age, who love comfortable clothing and sustainable fashion.
UX/UI Designer and brand creator. I created the app logo, the brand, the user flow and the all-round interface and user experience.
BoBo is a fashion brand based in Jaffa, Israel. The goal is to take the brand to the next kevel, and design a fashion app that will compete and differentiate itself from other fashion brand apps on the market by making it easy to use, playful and sustainable.
10+ downloads daily.
100+ daily active users.
30% Sales Conversion Rate.
Content sharing done by at least 5% of users.
At least 20% of users connect with other users.
50% daily returning users.
Creating a friendly, fun and fashionable app that will draw users from other competing fashion apps on the market.
I created a signature look and feel, with unique style and color schemas, that would later be demonstrated in the physical store. The second hand marketplace within the app is unique and benefits all users.
I began my research by learning about the brand- its strong points and weak points. I then researched the competition, focusing on what they lack  design-wise and user experience-wise. I then handed a questionnaire to 15 potential users who fit the client specifications, asking them what fashion apps they use and which are their favorites and why.
Creating a friendly, fun and fashionable app that will draw users from other competing fashion apps on the market.
Latest trends in Zara brand for women and men. 
Very clean and boring. Lacks uniqueness and color.
No social communication  between costumers.
Black and white, has reviews from costumers, has a good return policy.
Second-hand clothing online community. Has a growing costumer base. has no buyer protection. asks the seller to take self photos of the product.
Age: 35
Status: Married + 1
Occupation: HR Specialist
Residence: Haifa, Israel
Andy is a hard working individual who lives in Haifa. She recently had a baby and is gradually returning to her previous weight. She loves animals and colorful prints, and is generally a joyful person.
Andy is looking to finally buy a house with her spouse and is trying to save money.
She loves shopping and loves fashion. She loves the BoBo fashion brand, and saves up to buy their dresses and commute to the Jaffa store.
Andy is looking for an app that will make shopping BoBo fashion easier so that she doesnt have to use public transportation.
As she is trying to save money, she is looking for a way to sell BoBo dresses she owns and no longer fit, but feel protected as she does so, and not have to worry about the buyer not paying.
The user's journey in BoBo Fashion begins with a landing page that includes the latest products. There is a signup form that encourages the user to partake in buying new BoBo fashion or sell\buy older items from buyers.
The user starts with the landing page that includes latest products and latest blog posts.
If the user wants to see the second-hand marketplace, they will click on the "Sustainable marketplace" button.
If the user wants to browse or purchase second hand items, they will click on "I want to buy".
If the user wants to sell an item they will click on "I want to sell".
Selling- fill out the seller form, add a amateur photo of the item and a price estimate.
Buying- Prompts a purchase process-same as with the new products.
I created Hi-Fidelity Wireframes and kept them as simple and fun as possible by leaving lots of space for images and a minimum amount of text in order to make the app seem more fashion-oriented.
Title Font – Playfair– BoBo is a playful, colorful and fun fashion brand, so i chose a classic round font to fit the colorful narrative of the brand, one that will not overshadow the fashion.
Text font– Quicksand- I wanted a simple font, which is also round with soft edges in order to keep the general feeling of the app readable and clean but still fun.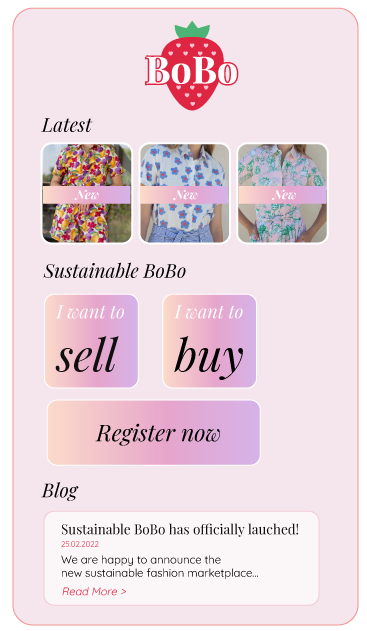 I used lilac and light orange as the main colors to reflect the summery feel of the brand. I combined black and white for a cleaner feel for longer texts and objects.